Band Aide---go to personhoodpress.com to ORDER IT and view book here below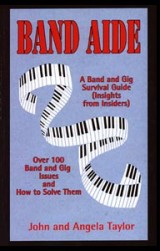 A Band and Gig Survival Guide (Insights from Insiders)
Frank, professional advice for bands and their members.
By: John Taylor and Angela Taylor
Music, Self- Help
- Published: May 2005
- ISBN: 1-932181-17-2
- Pages: 112
- Size: 5 x 8
Reviews / Endorsements
Foreign Rights
Description
This question-and-answer, no-holds-barred discussion of the intricacies of making a living as a professional musician gives frank advice regarding professional and personal aspects for a band's success and survival. An extensive range of industry topics are covered, including how to find and hire musicians, lay down gig and rehearsal rules, find booking agents, locate venues, put together press packs, write contracts, record a demo, self promote, and gain industry attention. Potentially taboo interpersonal issues are also addressed, such as how to fire someone, give criticism, and deal with clashing egos.
 BOOK EXCERPT.....HIRING RICH VERUS POOR MUSICIANS.
Don't be led astray by another's expensive equipment or various gig connections.  We've always chosen musicianshp over someone's social or economic status.  No amount of money can make up for bad musicianship.  There is no guarantee that the prestige of the performer is related to musicianship.  Judge only by results.
HIRING OLDER OR YOUNGER MUSICIANS....DOES IT MATTER?
HIRING STREET MUSICIANS OR EDUCATED ONES
HOW TO GET GIGS FAST AND HOW MUCH TO CHARGE
WHO TO HIRE AND HOW TO FIRE.